Please use BACK BUTTON ON BROWSER to return to main list
---


Price= $4500.00


CSA GEN. JOSEPH E. JOHNSTON ALS
WRITTEN AT A CRUCIAL TURNING POINT
IN THE CIVIL WAR

Two (2) items in this auction lot:
--the main item is an 1862 autograph letter signed by wounded Gen. Johnston and discussing Gen. R.E. Lee, etc.
--the second item is an unrelated 1920 letter concerning
Gen. Johnston's sword.
---
PERCEPTIVE INSIGHT
AT A CRUCIAL TURNING POINT IN THE CIVIL WAR

Gen. Robert E. Lee's famed Army of Northern Virginia
was on the threshold of forging its immortal place in history,
when GEN. JOSEPH E. JOHNSTON,
hospitalized and suffering from a serious wound at Seven Pines,
wrote this letter to Louis T. Wigfall.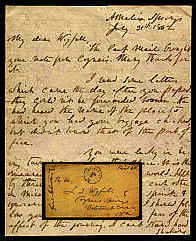 Johnston knew that his command prospects were entwined with Lee
at this defining moment in their career and in the future of the Confederacy.

---
BACKGROUND:
On 31 May 1862, GEN. JOSEPH EGGLESTON JOHNSTON attacked Gen. George B. McClellan's Union Army at the battle of Seven Pines or Fair Oaks. The battle was tactically inconclusive, but it stopped McClellan's advance on the city of Richmond.

More significant, however, was that Johnston was wounded in his right shoulder and chest by an artillery shell on the second day of the battle. President Davis turned over command of the Confederate Army to Gen. Robert E. Lee, who led the Army of Northern Virginia for the remainder of the war.
---
The first (main) item in this lot:

1) Two-page ALS (about 6 x 7") and original cover. The letter is written in ink on yellow paper.

--There is about a 2" tear down from the top of the letter (see scan below), otherwise good condition.

--While recuperating from his wound at a "hospital" in Amelia Springs, VA, Johnston wrote this letter to Louis T. Wigfall at Coyner Springs, VA.

--Transcription as follows:

COVER:
"To
The Hon. L. T. Wigfall
Coyner's Springs
Botetourt County Va"

"Genl Johnston"
is written vertically along left margin of cover -- probably as "docketing" applied by the recipient stating who the letter was from. Cover bears black circular postmark which is somewhat illegible, but probably reads "JETERSVILLE Va Aug 2" and manuscript "Paid 10"

LETTER:
Amelia Springs
July 31st 1862
My dear Wigfall,
The last mail brought your note from Coyner's. Many thanks for it.

I send some letters which came the day after you passed. They could not be forwarded sooner. We had heard the name of the place to which you had your baggage checked, but didn't know that of the post office.

You were lucky in being turned away from this place. It is the meanest of the kind in the world. Kept by three brothers who vie with each other in miserly & unaccommodating spirit & ignorance of ordinary decency. I should follow you immediately but for fear of the effect of the journey. I can't stand hard shaking.

[page two]
shaking.
When does Congress meet?
Did you learn the plans of the government in relation to the war?
I am very anxious to know what to expect on rejoining the army.
It is evident already that there are to be two armies.
I want the one they are forming in the North.
But unless Lee chooses to command that of Richmond I shall doubtless be assigned to it. To wait McC's leisure - I have already had something too much of that.
Very truly yours
J. E. Johnston

What has become of the application for a Captaincy of Eng's for my friend Schleichen?

[At this time, Wigfall was a member of the Confederate Congress from the State of Texas]


[Please scroll down to bottom of image to view all items]

The provenance for this letter is as follows:

BESSIE ELIZABETH JOHNSTON (1848-1926)
of Baltimore, Maryland was reared in a home atmosphere of deep sympathy for the Southern Cause. One of her brothers was imprisoned in Baltimore for aiding the South. Her brother Elliott fought for the South as a Confederate officer and lost a leg at the battle of Antietam.

Bessie became an ardent and unreconstructed Confederate.

In 1887, Bessie married Thomas Baxter Gresham, a Confederate veteran from Macon Georgia.

Bessie Gresham was active in the Baltimore chapter of the United Daughters of the Confederacy, and amassed a notable collection of Confederate manuscripts and relics at the Gresham home at 815 Park Avenue in Baltimore. Most of her items were left to the Museum of the Confederacy, the Maryland Historical Society & other Institutions.

The items included in this lot were passed down through her stepson Leroy Gresham.

In 1926, CONFEDERATE VETERAN MAGAZINE printed Bessie Gresham's obituary:
MRS. THOMAS BAXTER GRESHAM – IN MEMORIAM
CONFEDERATE VETERAN, Volume XXXIV, p. 149.

In the death of Mrs. Thomas Baxter Gresham, which occurred February 21, 1926, Baltimore Chapter No. 8 and the Maryland Division, U. D. C. have sustained a great bereavement.

She was the daughter of Thomas Donaldson Johnston, of Baltimore, and lived her entire life in this city. Miss Johnston married a brave and gallant soldier of General Lee's army, who survives her. One of her brothers, who was on General Ewell's staff, suffered the loss of a leg at the battle of Sharpsburg: her two other brothers were active Southern sympathizers and were under constant surveillance by Federal authorities for giving all possible aid to the Confederacy; her home was a center from which radiated help. Reared in this atmosphere of deep love for our "cause," she became an ardent and unreconstructed Confederate.

During her girlhood Miss Johnston was acquainted with many Southern generals and received from them letters, photographs, and autographs, also a number of gifts. A large portion of these mementos she presented to the Maryland Historical Society, where they are greatly treasured and occupy a valued space.

Mrs. Gresham was the last surviving charter member of the United Daughters of the Confederacy in the State. The Baltimore Chapter of the Society was organized in the parlors of her home, and she was a member of the governing board from its inception and for many years its Recording Secretary. It was owing to her efforts that the design for the Confederate monument by F. Wellington Ruckstull, was submitted to the Daughters in Maryland. She helped to secure the erection of the woman's monument and contributed generously to the Stone Mountain fund.

In the passing of this valued officer, whose loss we deeply deplore, one has gone from us whose convictions ever remained unchanged. The flower of Confederate loyalty and devotion took root and blossomed in the soil of her soul, grew and spread its fragrance over her entire life. We mourn her demise, but having "crossed over the river,"we are glad in the assurance that she now enjoys perfect peace and rest eternal in the presence of Almighty God.
[Mrs. Preston Power, Editor, Maryland Division, U. D. C.]


[Included with this Gen. Johnston ALS is a photocopy of Bessie Gresham's note stating:
"Autograph War Letters of ... Genl Johnston ... Given me by Mrs. Taylor (daughter of Genl Wigfall – Dec 1922"]
---
The second item in this lot is UNRELATED to the first, but also concerns Gen. Joseph E. Johnston:

2) Three-page Letter & cover written to Bessie Gresham from Louis Wigfall's niece in 1920. Letter is written in ink on mourning(?) stationary, and is in good condition.

Transcription follows:

ENVELOPE:
Mrs. Gresham
815 Park Avenue
[NOTE written on envelope:]
"Letter accompanying Genl Johnston's sword"

LETTER:
831 Park Avenue
February 23rd 1920
Dear Mrs. Gresham
I am sending you the sword of General Joseph E. Johnston feeling very certain it will be prized and cared for while you live and will form part of your valuable Confederate collection to be preserved as in your wisdom you think best.

General Johnston
[page two]
wore this sword for many years during the Indian wars, Mexican & for the first year of the Confederacy. He replaced it with a much heavier one giving this sword in 1863 to his wife with the request that she give it to her nephew & his godchild Louis McLane Tiffany. My husband gave it to me. Knowing my love for the Confederacy & also for Uncle Joe as we called Gen. Johnston. I am glad to pass this precious sword on to you dear Mrs. Gresham as you valued Gen. Johnston & he valued & loved you.
Believe me
Very sincerely
Evelyn M. B. Tiffany

[Evelyn May Bayle Tiffany Born Apr. 13, 1851 Died May 25, 1929 was the Wife of Louis McLane Tiffany, M.D. a noted Baltimore surgeon]

[Bessie Gresham likely donated this sword to one of several museums.]
[Please scroll down to bottom of image to view all items]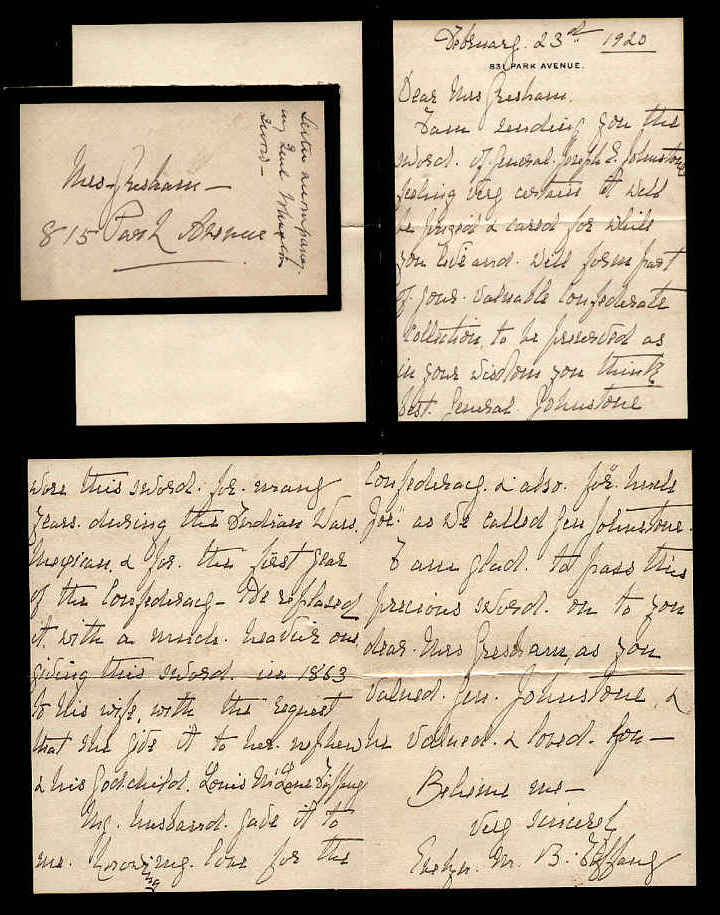 Price= $4500.00



---
Please use BACK BUTTON ON BROWSER to return to main list
ORDERING INFORMATION
BACK TO HISTORY BROKER HOMEPAGE